Shape Chroma – 18th Sept-16th Oct
Faced with a work of art, the spectator should have the feeling that something has happened in it, that something is still happening and that this will continue for as long as the work exists. —Patricia Railing, 2004
'SHAPE CHROMA' is a trialogue between three painters whose formal inquiry into shape, colour and spatial illusion is presented in three different material approaches and methodologies. The three artists explore the interrelationships between chromatic interaction; constructed space; illusionistic space and composition in a conversation with early European Modernist abstract painting and current digital information age influences. The constructed space of painting is playfully reconfigured in a set of new visual dialogues which reference both historical and 21st Century influences. 
This timely show takes a meta-Modernistic approach – looking back in order to move forward. The re-shaping of colour, represented though perfect and imperfect arrangements, re-examines the push and pull of the picture plane; and the choice of support and surface materiality further comments on the rich history of geometric abstraction, which has inspired and informed all three artists – their aim is not to repeat familiar tropes but to find new systems of making and new ways to re-present colour and form.
Laurence Noga blends found objects and chromatic energy in evocative constructions that embrace imperfect geometry and fluid visual balance. Noga's work combines an industrial and geometric aesthetic with more personal themes and undercurrents. A sense of history comes from collective and individual memories.The optical effects of Katrina Blannin's meticulously layered geometric forms rest upon the clarity of simple systems, found colour, palindromes and structural repetition. Caroline List's analysis of colour theory, atmospheric phenomena and illusory effects establishes a complex spatial lexicon that animates the timeless interplay of form, ground, support and setting. Colour gradients and blends are seen in contrast to visual horizons and inter- connecting form.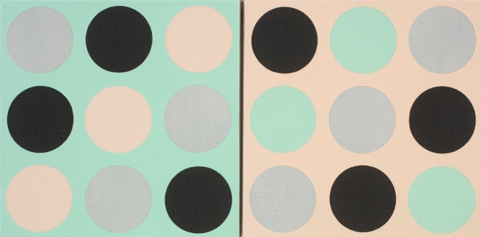 Katrina Blannin, 'Piero Sequence #5 (P)' 2019, acrylic on linen, diptych 2 x 40cm x 40cm
Katrina Blannin is interested in patterns of construction that generate structures that are palindromic and isochromatic – meticulously paints layered geometric forms, repeats and prints through the process of experimenting with simple systems, as well as palindromic and isochromatic structures, she aims to produce paintings with a logical clarity; both spatial and material in character.
Katrina Blannin was born in London where she currently lives and works. Since graduating from the Royal College of art in 1997 she has shown her work extensively in the UK and abroad, co-directed artist run project spaces, curated exhibitions and written about contemporary painting. In 2021 she completed a Painting by Practice PhD at the University of Worcester where research centred around ideas about systems and painting with a focus on the British Constructionists working in the latter part of the twentieth century. She teaches at UAL Camberwell and UCA Canterbury and works both on the editorial board and the mentoring program for Turps Banana, London.

Caroline List, Oil & black gesso on linen, 'Chroma Shape' series  (2020 )
Caroline List's inquiry into colour and illusory space sets up a colour conversation within her paintings, informed by a number of colour references, such as signatures observed within nature, colour phenomena, colour theory and formal abstraction. This eclectic mix of references set up a spatial language, a visual tension between illusory fields of colour, light, opaque and transparent colour shapes. Her paintings play with the push and pull of picture plane, form and ground, creating compositions with surreal spatial horizons
Caroline List Born in Nottingham, studied MA Fine Art Painting at Chelsea School of Art & Design 1987-88. Caroline currently lives & Work in London and has exhibited in the UK and internationally. Her work has been collected by a number of corporate and private collections. Caroline is a specialist Painting technician at Central Saint Martins School of Art & Design and lectures at The Art Academy, London.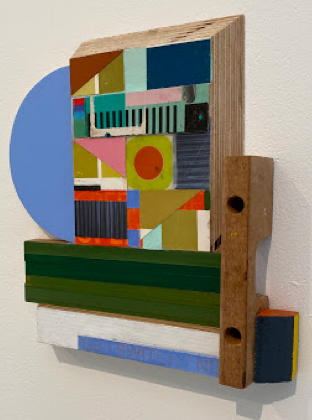 Laurence Noga, construction / assemblage, collage, paint, mixed-media – 2020 
( Courtesy of Aleph Contemporary, London )   
Laurence Noga's mixed media, collaged and painted constructions are low reliefs and recall works from the 1920s such as Kurt Schwitters' (Merz 1925 1 Relief Blue Square 1925) . Noga constructs and assembles imperfect geometries. They have a complexity of colour and compositions. An eclectic inter-connectivity of the found and painted. These, 'mixed media' works have an open–ended language of shape, colour and surface, that seem to play with aesthetics' of balance and imbalance, creating a kind of industrialised and personal memory scape.
Laurence Noga Born in London, attended Wimbledon School of Art in 1981 – 4, Byam Shaw (Central St Martins) 1990 -1. He is an artist and curator and writer. He lectures at the University of the Arts London. He has shown work extensively in the UK and abroad.
We are an artist run gallery dedicated to showcasing the work and raising the profiles of emerging and mid career local, national and international artists. We show a mixture of contemporary & experimental art that questions what art is and what art could be.
135 Maple Road
London
SE20 8LP
OPEN
Thursday - Saturday
11am - 5pm
or
by appointment