Mary Gordon-Smith, Walter Hayn, Angele Lautier & James O'Hara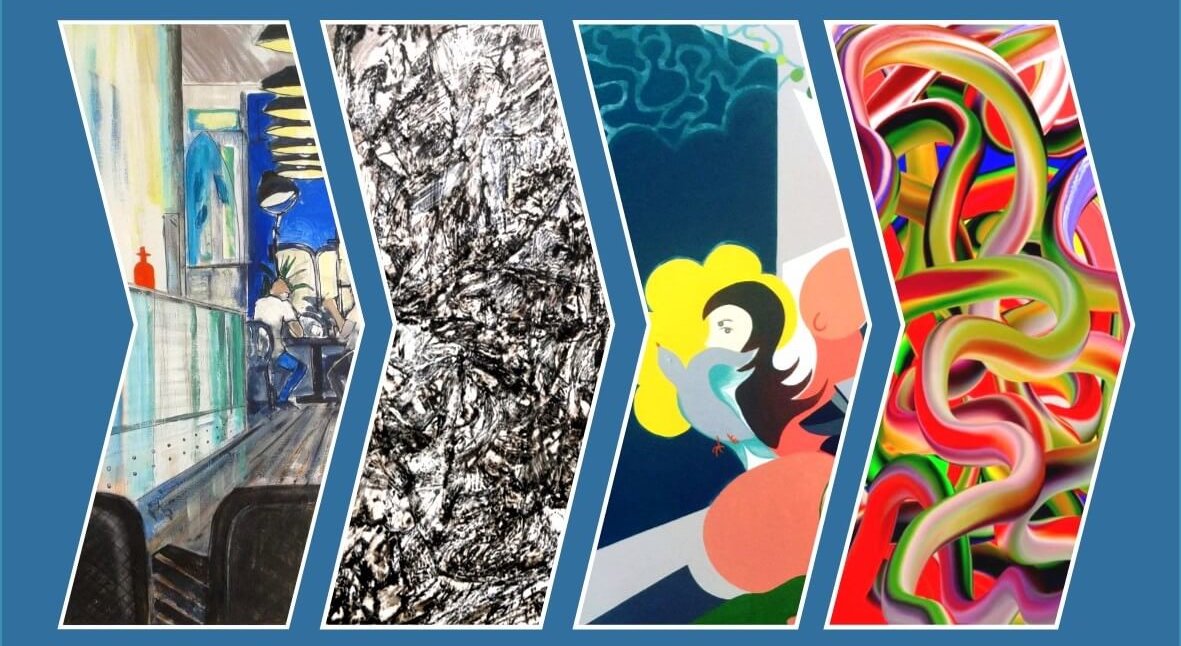 FOURSIGHT,
AND
EVERYTHING IN BETWEEN
When Ken Turner proposed curating a show with the four of us from the SE20 Art Group, it seemed to us at first to be a somewhat curious and awkward amalgamation. However, as we began to tentatively discuss a title for the exhibition and presented our offerings of artwork towards the show, a spark of excitement was ignited. It emerged that whilst the artworks were quite visually diverse, there were intriguing conceptual links to ponder. Out of this realisation, the title began to crystallise: "FOURSIGHT, and everything in between."
Four differing 'visions' are on show each standing on their own merit. It is the spaces – the dialogue – between the works, which form additional narratives. It is worth noting that the artists all come from different backgrounds and countries, and our styles and disciplines have developed separately from each other out of unique interests and circumstances. Nevertheless, there are reverberations between the works.
Mary's translation of her closely observed 'life' drawings into larger paintings become expressive, intimate explorations of her relationship with the environment and its inhabitants. This echoes with how Angele responds to the world, "Be it a gesture…or a headline", she translates this in an intimate way into flat, colourful paintings that become at once playful and surreal, yet remain ambiguously serious images. In a similar way, Walter translates his own life experiences, Scripture, or contemporary concerns through the prism of personal inner vision, resulting in abstracted work, with ambiguous visual links to real things. James reverses this process and begins with a visual 'life experience' (as does Mary) in the way he might sometimes start with the drawing of a posed model, then he 'destroys' and re-works the image, personalising until it is something quite removed from the original.
On a purely visceral level the works reverberate with each other… Walter's pieces attempt to suck the colour from the room and James' work keeps providing it… Mary promotes line and texture whilst Angele's work denies it… this exhibition has contrasts, similarities and stories 'in between', keeping the spectator busy!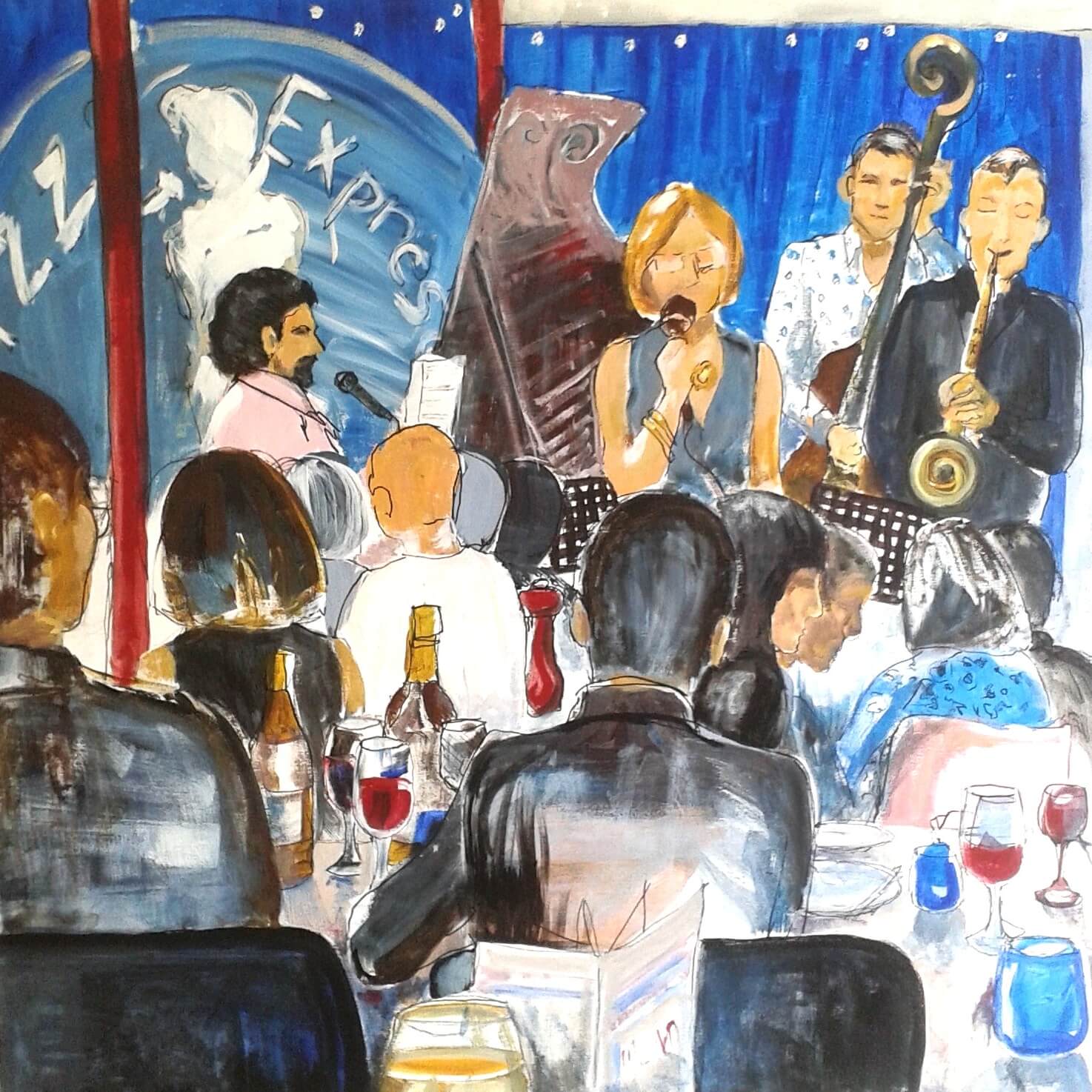 Mary Gordon-Smith is originally from the Isle of Sheppey and now lives in Sydenham. She draws from observation in cafes and other public spaces. Her focus is the body language of people interacting – either with each other or the various devices they bring with them. Places designed for transient pleasure or work create an inclusive environment where an artist can draw unobserved. Using her drawings as basis for these paintings, the results can be surprising. Visual records compete with memory, original compositions and colours are adapted to larger formats, and new meanings emerge.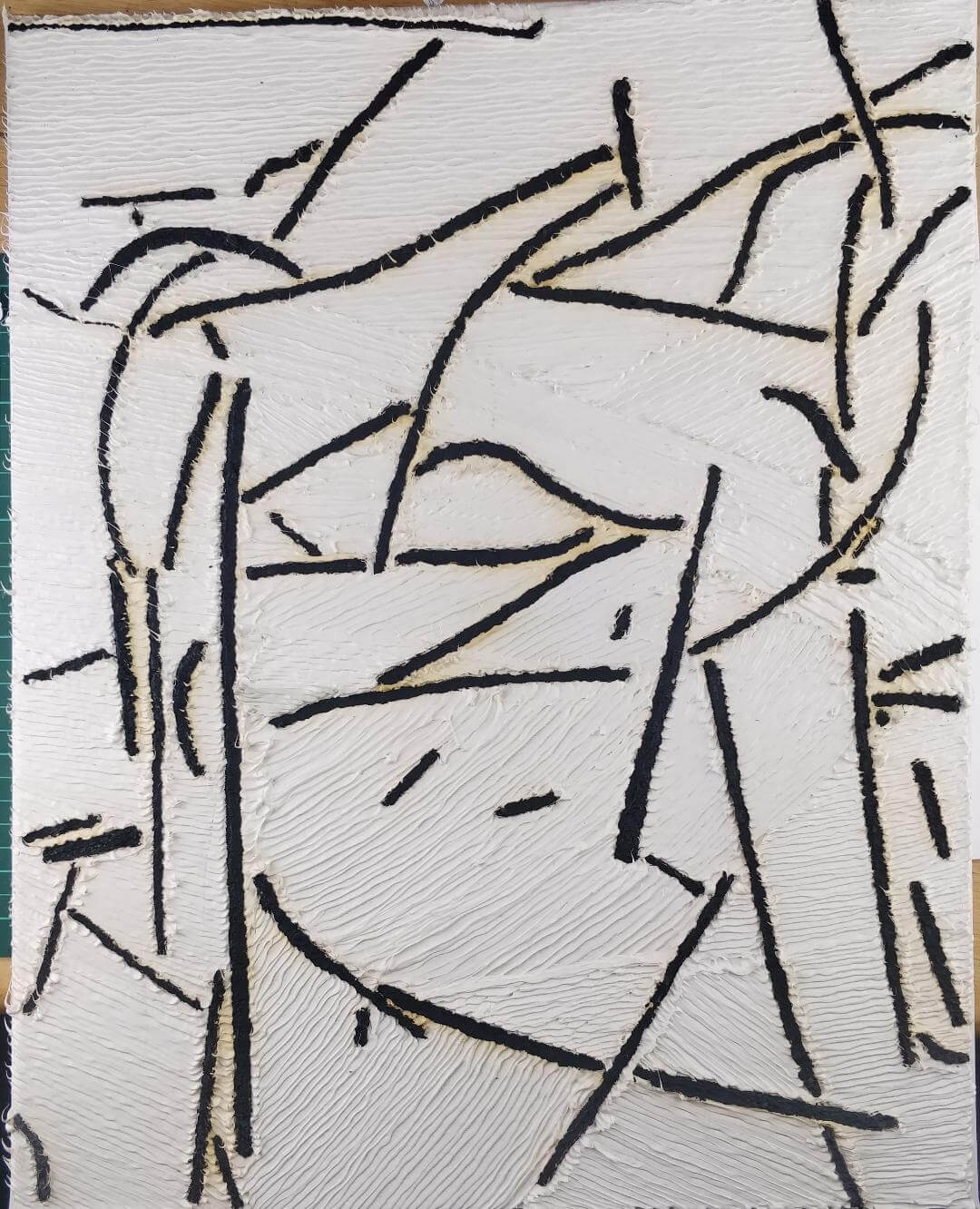 Walter Hayn is originally from South Africa now living in Penge. His paintings on canvas, and sculptures, are the culmination of many drawings on paper. His recent work is mostly monochromatic, and textural mark-making (either in oil paints or silicone) his primary visual vocabulary. Walter's concerns are explored as an outworking of his Christian faith within the context of the exploration of identity stemming from his experiences growing up in Apartheid South Africa and other life experiences. Walter completed a BA in Fine Art at Durban University of Technology, and a PGCE and Masters degree in Art and Design education at UCL Institute of Education. He currently divides his time between a studio practice and part-time art teaching at a school in Brockley.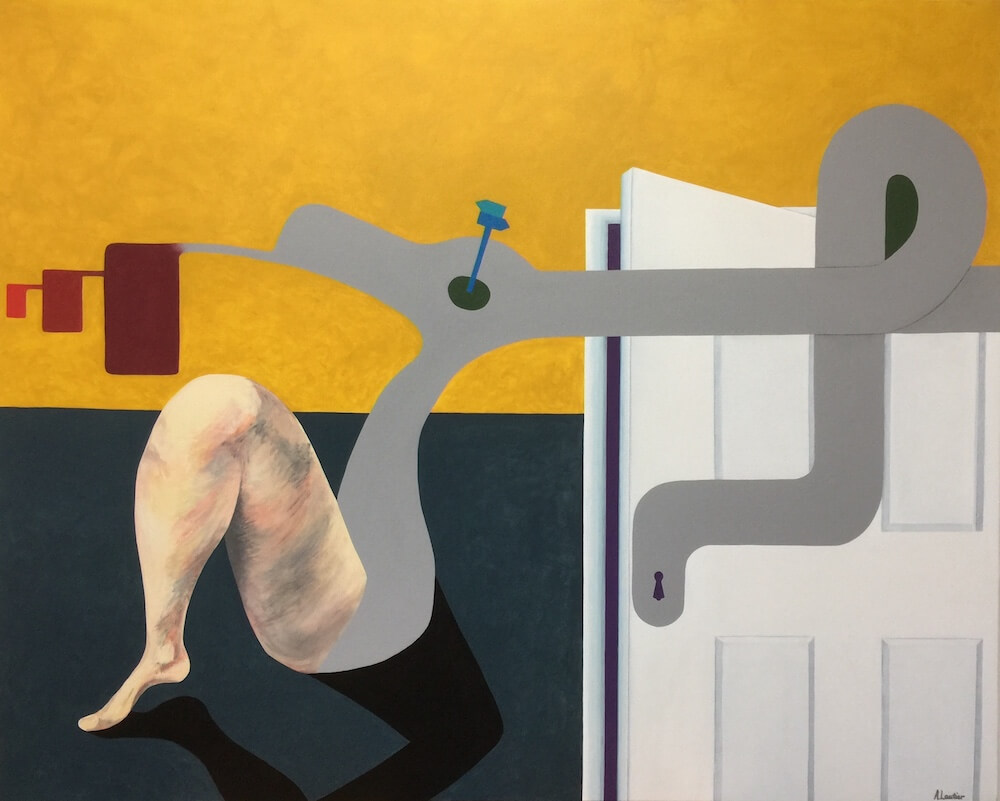 Angele Lautier is a Maltese artist living in Penge. Her paintings and sculptures are the product of her response to her immediate surroundings; be it a gesture in a conversation or a headline in the news. Her way to express ideas is to link them to an autobiographical situation or pursue research that informs her work. She playfully upsets the concept by applying a surreal approach together with an unexpected colour palette, flat forms and symbols. Her interest in human interaction and behaviour is evident through narrative and dialogue between the elements in her compositions. Angele graduated from Camberwell College of Arts in Fine Art, and currently teaches Art and Design Foundation.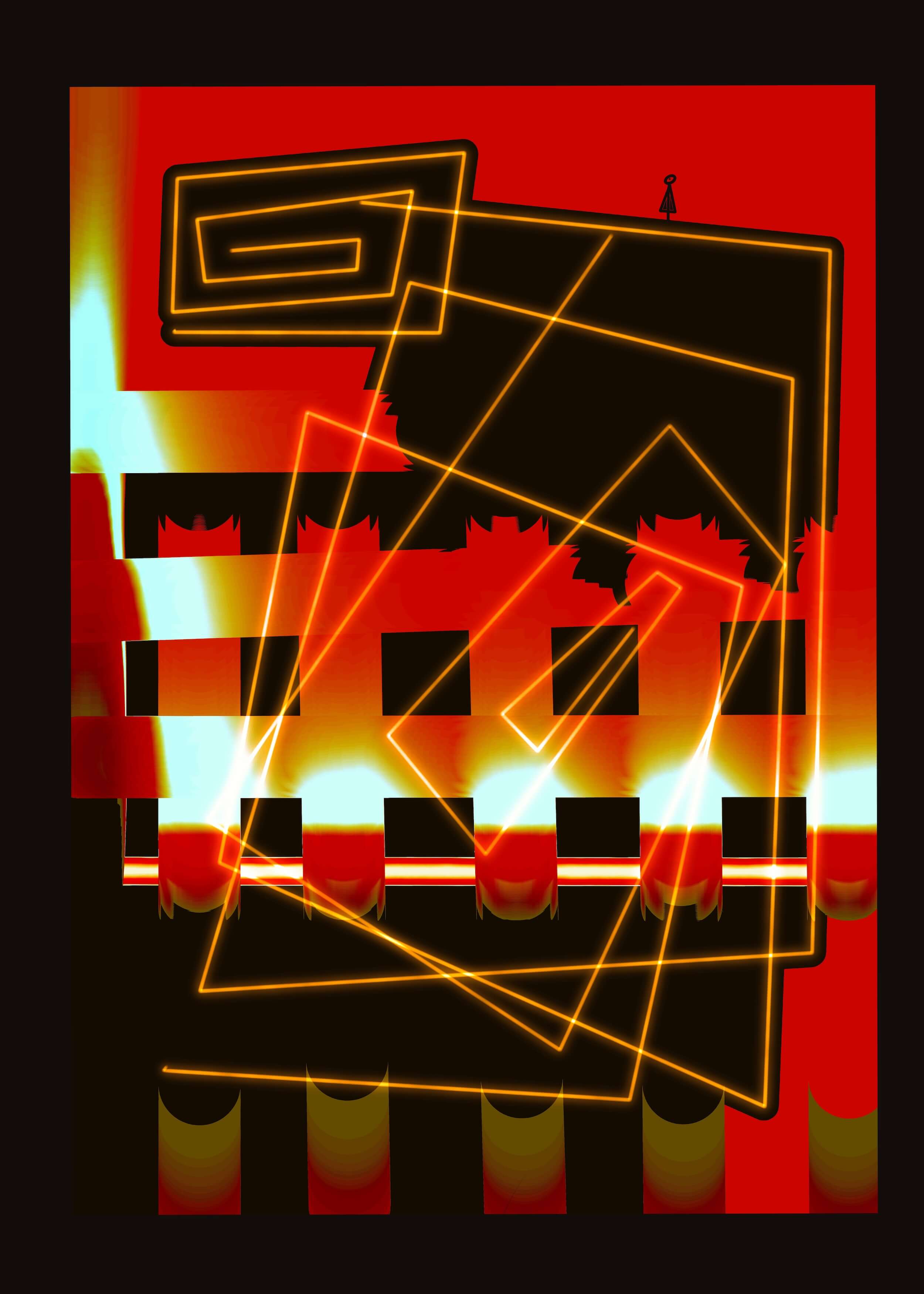 James O'Hara is a Northern Irish artist living in Penge. He started life drawing sessions with an iPad four years ago. Now venturing away from traditional nude drawings James has created a style of his own. His works, in some instances, are created through the destruction of previous work in an effort to find a finished piece. James is a regular exhibiter in Penge, Crystal Palace, Sydenham and Tooting. He won a prize for the most original artwork at the recent 'Life on Film' event. The "FOURSIGHT, and everything in between" exhibition has provided James with an opportunity to exhibit these unique creations.
We are a gallery dedicated to showcasing the work and raising the profiles of emerging local, national and international artists.
We show a mixture of contemporary & experimental art that questions what art is and what art could be.
135 Maple Road
London
SE20 8LP
OPEN
Thursday - Saturday
11am - 5pm
or
by prior appointment