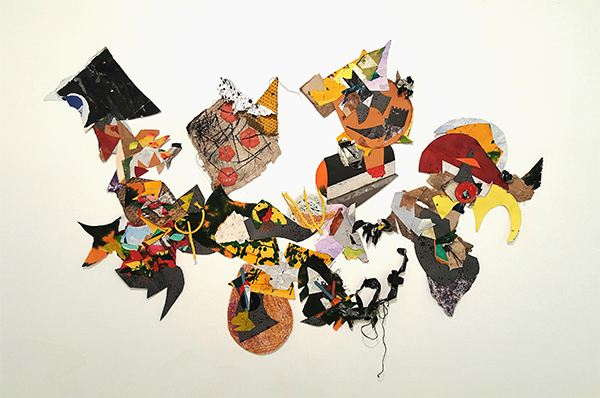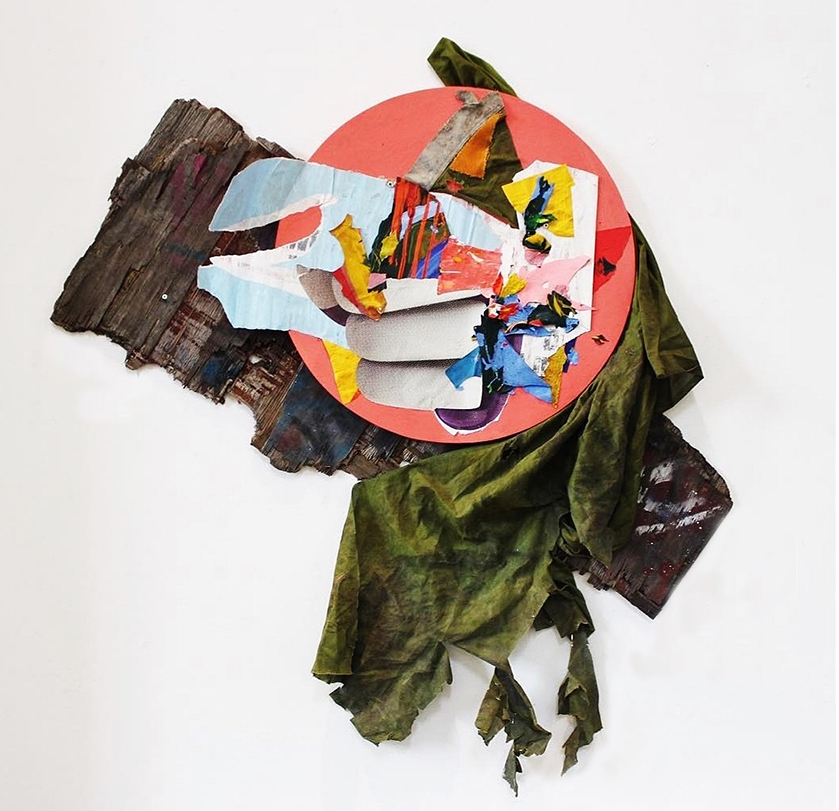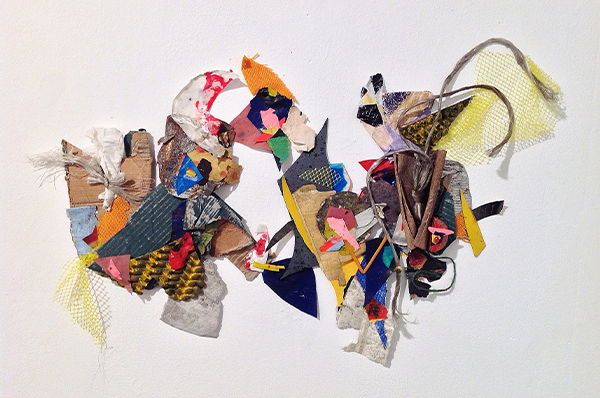 "…our dust is blowing along the road."
2nd March- 1st April 
Bunker's work is characterised by an obsession with those twin disruptors born of Modernism, abstraction and collage, and their continuing powerful presence in contemporary art.
Abstraction is often associated with high ideals, formal innovation and a preoccupation with purely aesthetic experience. Collage is, by contrast, the stuff of gritty satire, stark juxtapositions of imagery and the quotidian world of objects and images.
Bunker plays with the friction generated between these two modes, creating images and objects that are both allusive and elusive. Swinging from the delicate and poetic to the materially dense and brutal, the array of sculptures, paintings and wall-based assemblages on show- all of them made within the last decade– offer tangible proof of Bunker's ability to conjure captivating and psychologically charged abstract images from a startling and diverse range of materials.
Whilst working on a house in Edinburgh in 1887, two itinerant labourers placed a message inside a whisky bottle and hid it under the floorboards. Bottle and contents have only now come to light; and John Bunker's survey show at Tension Fine Art, 'Our Dust is Blowing Along the Road' derives its title from one of the message's most memorable fragments. 
Bunker has this to say: "What struck me about this particular story was that the bottle was hidden in a house, rather than cast out to sea, and so long ago. I'd been thinking about putting together a survey show of my work for quite a while; and it occurred to me that, just like the bottle in this story, artworks get hidden away for years and then are rediscovered by the artist or curators. I liked the quiet poetry of those men's words. They got me thinking: what messages from the past do artworks hold within the fabric of their peculiar singularity? How do they speak to us in the present tense and what might the future hold for them? Even an artwork I finished last week is already history!"
John Bunker was born in Norwich in the UK in 1968. He received BA Hons Degree in Art & Social Context from Dartington College of Arts, Devon in 1991. Since moving to London in 1996, Bunker has worked in various arts settings including community arts and Further and Higher Education. As well as maintaining his multi- disciplinary arts practise, Bunker also regularly curates exhibitions which have included artists as diverse as Sir Frank Bowling OBE RA and Harland Miller. He also writes regularly about art. Bunker has written numerous reviews, catalogue essays and articles and in 2018 co-founded instantloveland.com with Matt Dennis, a website dedicated to exploring the histories and potential futures of abstract art. Bunker has exhibited widely in the UK and abroad and has works in many private collections.
We are an artist run gallery dedicated to showcasing the work and raising the profiles of emerging and mid career local, national and international artists. We show a mixture of contemporary & experimental art that questions what art is and what art could be.
135 Maple Road
London
SE20 8LP
OPEN
Thursday - Saturday
11am - 5pm
or
by appointment