I FORGET WHY I LIVE TO REMEMBER
Unlike the images typically circulated on social media by the digital pilgrims of our age, the location of the artist's whereabouts is never disclosed in his documentary photographs in this series taken during the artist's hitchhiking trip a few years ago,. He does not preserve the place he visited, instead, he documents his trace in the places he travels to, from Dover to Furtwangen to Krk; by capturing his thumb, the artist makes an allusion to a well known amateur error – the trope of a bad photographer. Only, in these photographs the thumbprints loom large and deliberate, with his blood just beneath the skin meeting the camera lens, as though the point of the journey throughout was not covering mileage, not seeing new places, but to travel deeper and intimately into the self. Which is, after all, what we do as travelling pilgrims of cultural enlightenment, these days. Is there a certain blindness afforded by the will to get enlightened (think Eat, Pray, Love and its misinformed Western gaze) which these photographs also allude to?
Accompanying the photographs is a stop motion film of 500,000+ images of every image taken, recorded or saved onto a computer from the artist's life: a complete, fleeting auto -portrait of moments from the depths of his computer, sourced from a generic recovery application in an attempt to salvage his holiday photos after having accidentally deleted them. Contrary to the demure prints, these images come in a splurge of over-explicit information. The photographic prints attempt to hide from visual reason, the stop motion images desperately attempting to remember everything forgotten.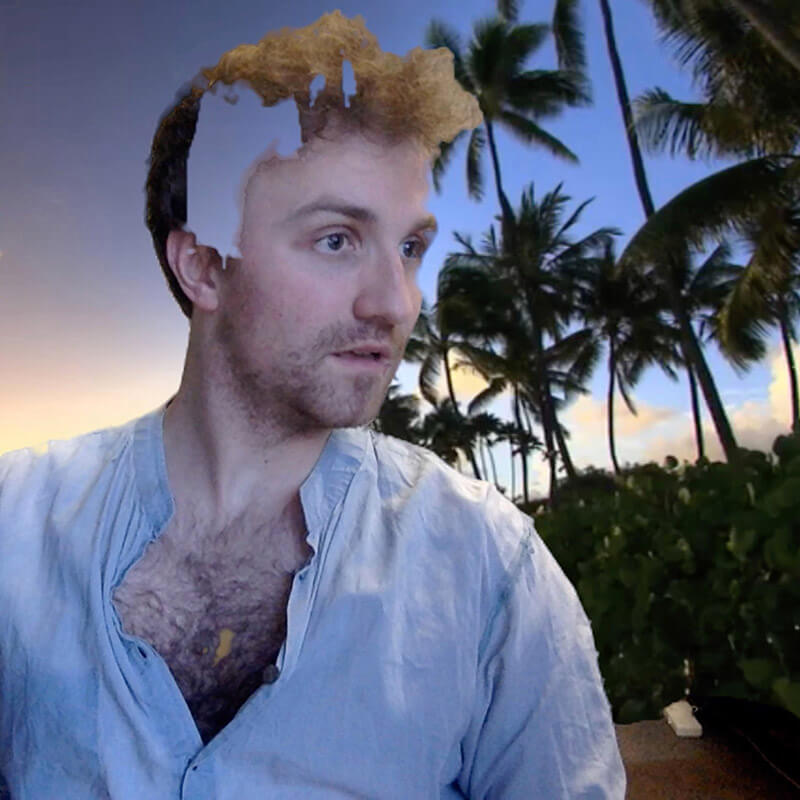 Tom Cardew is a multi-disciplinary artist working in film, writing, installation and performance. His practice is occupied with mining his own mundane experiences and translating them into fictive and surreal narrations. Tom studied an MA Fine Art at Central St Martins (2018), is a recipient of Arts Council Wales Research & Development and Production Awards (2018/9), and won the Golden Aesop Grand Prix in Contemporary Art at the 24th Biennial of Humour and Satire in Art (2019). Recent exhibitions, screenings and workshops include: 24th Biennial of Humour and Satire in Art, Museum of Humour – Gabrovo, Bulgaria (2019); Love Hangover, g39 – Cardiff, Wales (solo) (2019); Tate Exchange, Tate Modern – London, England (2017 & 2018); Whitechapel Gallery Open Film Screening – London England. (2017); Metaphors & Spatiality, Sichuan University Fine Arts Institute – Chongqing, China (2017/8); TBCTV, Somerset House (2018); NOVA Cymru, Royal Cambrian Academy, Aberystwyth Arts Centre, Arcade Cardiff (2017/8); Xhibit, Bermondsey Project Space (2018).
We are an artist run gallery dedicated to showcasing the work and raising the profiles of emerging and mid career local, national and international artists. We show a mixture of contemporary & experimental art that questions what art is and what art could be.
135 Maple Road
London
SE20 8LP
OPEN
Thursday - Saturday
11am - 5pm
or
by appointment