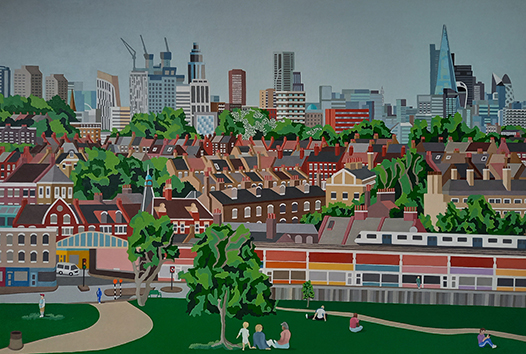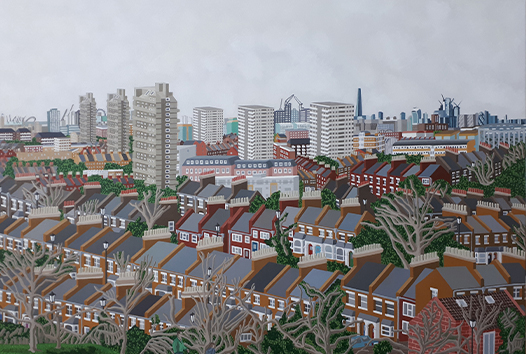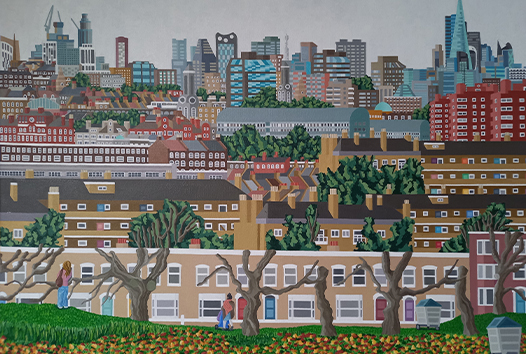 Ben Smith – Cityscapes (2018-2022)
CITYSCAPES
3rd-25th February 
2023
Ben Smith's painting practice begins with drawing, making sketches in urban locations in south London where he lives and works. Returning to the studio he photocopies his drawings and creates the compositions for his paintings through collage, using a cut up technique, aiming to mimic the repetition and interchangeability of aspects of the contemporary urban landscape, and also the way that familiar landmarks often come to mind that we cannot quite place. Very few of his paintings are based on a single drawn image: most are constructed by the collage technique and depicts scenes that do not exist in the actual London landscape, perhaps constituting an attempt to depict the geography of our urban surroundings that we carry inside our heads.
For some years after leaving college Smith's painting practice consisted of an exploration of the interplay between abstraction and the urban landscape in the painted image. He depicted streets, bridges, cul de sacs and pubs in a pared down pop art style, using his own photographs as source material. Gradually he came to feel the limitations of making paintings based on photographic imagery, as this approach tended to limit the possibilities of composition. He also realised that what interested him in the painters he admired was the visual language or shorthand that they created to represent the visual world around us.
Smith takes inspiration from the landscape work of British artists such as Lowry and Hockney, and also from less celebrated figures such as Ruskin Spear, Charles Ginner and Robert Bevan. He also appreciates the urban sensibilities of French post impressionists, especially Maximilien Luce.
In the future he hopes to continue to explore the possibilities of the variation of painterly mark making within his drawing based practice, including bringing the human figure more into his paintings. He has in the last few years taken up life drawing again, with the local Dulwich Art group and School, in order to sharpen his skills in this area.
We are an artist run gallery dedicated to showcasing the work and raising the profiles of emerging and mid career local, national and international artists. We show a mixture of contemporary & experimental art that questions what art is and what art could be.
135 Maple Road
London
SE20 8LP
OPEN
Thursday - Saturday
11am - 5pm
or
by appointment