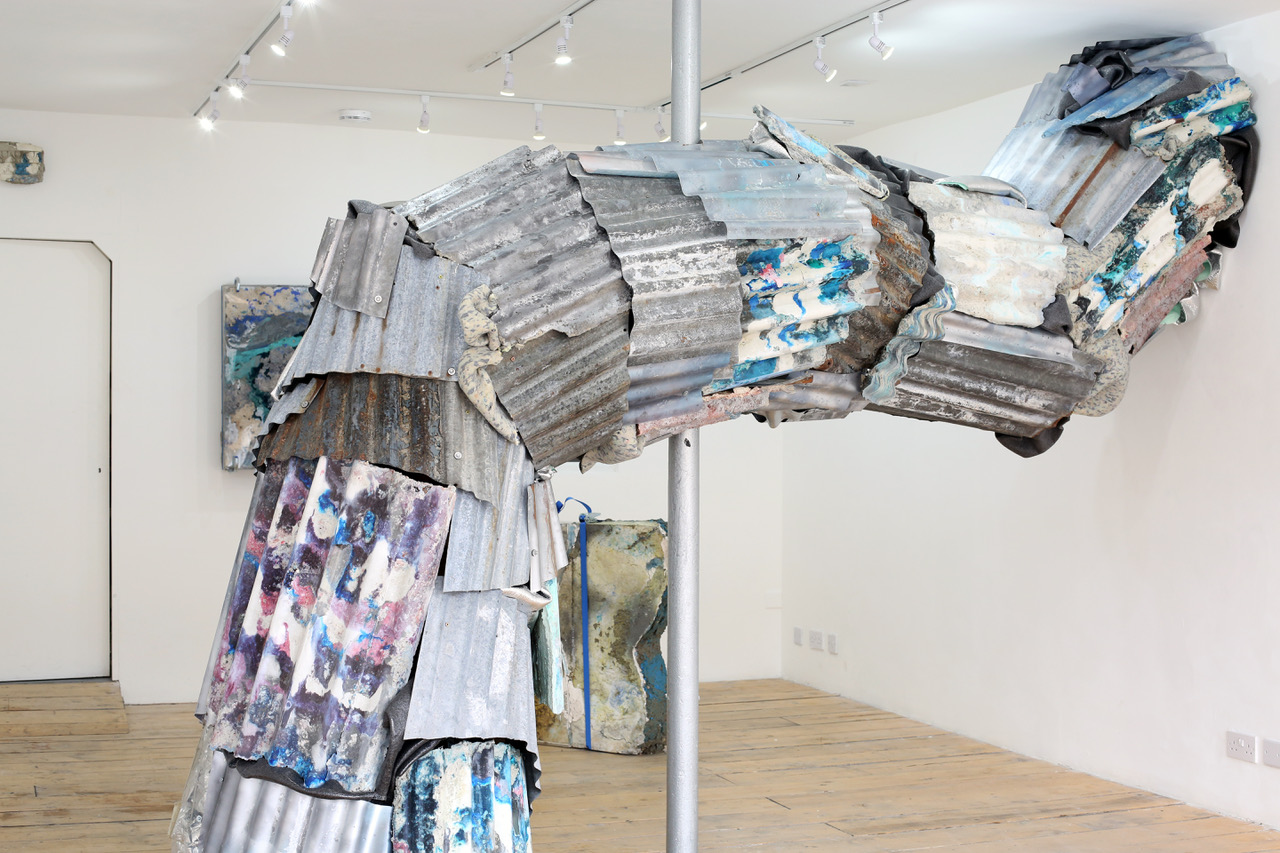 Residue
3rd September 
– 1st October 2022
Catriona is fascinated by the idea of the urban landscape as a collage. She is inspired by how over time architecture forms an urban geology where layers of history are built on top of foundations. There is a subterranean network of hidden cities beneath us, organic intertwined with inorganic. By covering the ground in concrete, tar and bitumen, we are disrupting the ecological cycle as these inorganic materials degrade at different rates with little or no nutritional benefit to the earth. She imagines a post-human future which nature will come back through the cracks as the concrete breaks down. The lifespan of Modern concrete buildings is only about 50-100 years compared to Roman concrete architecture, monuments and stone megaliths, which have lasted for thousands of years. The bedrock beneath the future city will be made up of detritus and past relics rapidly compressed to form a new transient sedimentary layer in deep time
Her sculptures burrow and bury themselves, digging into the ground and into the ceiling. Tunnelling through in-between spaces, they re-emerge with a new hardened stone-like shell. On the edge of collapse and precarity she performs a ritual of breakage in her process, pulping materials to their core fibres. By squeezing, cracking and blending these opposing elements into a collage, soft textiles start to ooze between the gaps in the facade, as if forming a synthetic marble from plasticised concrete. 
Biography:
Catriona Robertson is a London based artist working in sculpture, installation and performance. She graduated from the Royal College of Art, MA Sculpture in 2019. Catriona has recently won the Gilbert Bayes Award at the Royal Society of Sculptors 2022 with a yearlong mentorship and support. In 2021 she was runner up Second Prize, UK New Artist of the Year with an inaugural exhibition at the Saatchi Gallery supported by Robert Walters Group, and was a free Studio Prize winner at SET Woolwich. In 2020 the Standpoint Gallery selected her for a Graduate Residency, supported by the Mark Tanner Sculpture Award.
We are an artist run gallery dedicated to showcasing the work and raising the profiles of emerging and mid career local, national and international artists. We show a mixture of contemporary & experimental art that questions what art is and what art could be.
135 Maple Road
London
SE20 8LP
OPEN
Thursday - Saturday
11am - 5pm
or
by appointment