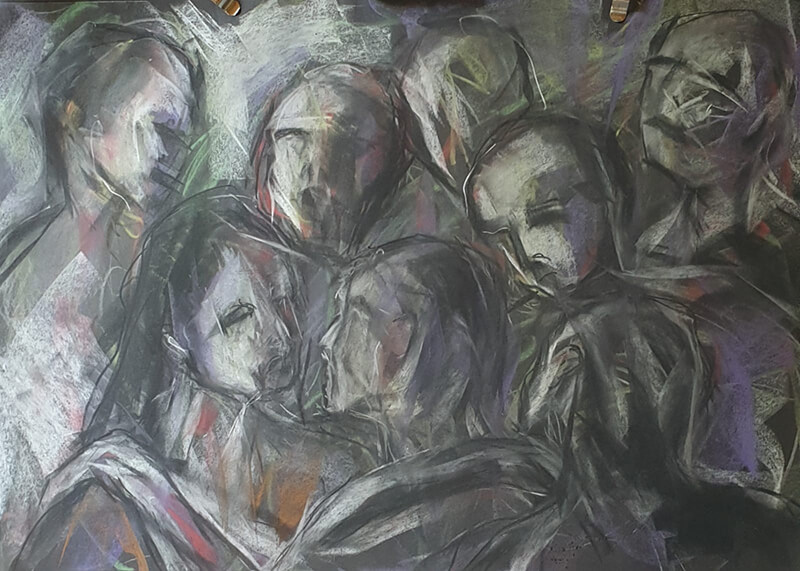 Jackie Tye is a former graduate of Central Saint Martins, where she achieved a BA in Fine Art. Jackie Tye makes art to make the invisible visible, and especially to make visible the profound connection between horses and humans. This has driven her to paint and draw horses for over half a century. In 2006, she gave up her art practice in London and moved to Devon, established a Sanctuary for troubled horses, and spent over 10 years studying horse behaviour in general and in particular the boundless connection between herself and her horse Obe so that she could return to painting horses with a deeper knowledge and understanding. It has been a journey, and the horses plus the art have led her to a place of healing and restoration. For her, the two passions cannot be separated, the liberty work she does with Obe is also art.
Jackie Tye is an expressionist artist, she distorts images of reality in order to make her inner feelings and ideas more expressive. In 2002, she and three colleagues, including well known artist Francesco Ruspoli, set up a group called the London New Expressionists, with the aim of directly challenging the contemporary art of that time, supported by Salon des Arts in Kensington and Ivan Massow who was director of the ICA. They held a very significant exhibition called Religion, Art and War, and Jackie Tye was artist in residence until she left for Devon. Jackie Tye is a prolific artist, painting on anything – from canvas and paper, to kitchen tiles, glass, formica, aluminium sheeting, and has been known to bring her art directly into the landscape by painting on trees and into flooded basements of listed buildings. Recently she has painted horse murals on internal walls of a historic market, which has led to discussions about how horses heal people. Jackie Tye is an experienced community art teacher and former theatre designer. She is also a qualified Equine Assisted Learning facilitator and works with people with mental health issues. Her art is used widely to challenge people's perceptions, and her art enables people to connect deeply with their soul.
We are a gallery dedicated to showcasing the work and raising the profiles of emerging and mid career local, national and international artists. We show a mixture of contemporary & experimental art that questions what art is and what art could be.
135 Maple Road
London
SE20 8LP
OPEN
Thursday - Saturday
11am - 5pm
or
by prior appointment